She guessed correctly! The picture was taken in THE Glamour Glory Closet!!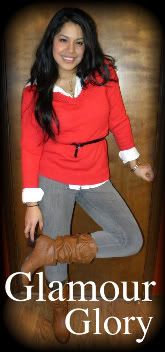 "/>
(Click On Button To Visit)
Kelly will be receiving a Coconut Lemongrass Scent Circle. So, Kelly, email me your mailing address @ BPattonLPN@yahoo.com and I will get that out in the mail!
Our logo never smelled so good! Hang freely in cars, lockers and closets. Packed with fragrance, each will give you weeks of Scentsy wherever you go.
Be Sure To Check Out Glamour Glory's Blog! I met Reyna back in 2006 after we moved into the apartment right next door to her. When I came up to sign for my house this past December, we celebrated her Birthday...and took a few pictures so I would have something to blog about when I was back up and running...enjoy!
fyi - the Buckle bag was mine. I drove up 6 hours and was wearing slouchy, comfy clothes...and I had to go get something to wear for her birthday. See my DC's in the picture? I was wearing THE MOST UNCOMFORTABLE shoes ever!! But they are HOTT!! I had to buy them. And the jeans were new also...BKE (i think...) or Silvers? See, I am not meant to be a fashionista.... :)